Home | Teacher | Language Arts | Social Studies | Classroom | Recommended Books
History: a study of significant past events related to human society.
Why do we need to study?
Allah's commandment

To learn from the mistakes made in the past

To understand how past relates (connects) to the present.

To understand people and culture

Study history so we can educate ourselves
Truth: complete truth - does not change under any circumstances (Quran and Sunnah)
truth: could be the truth. Not mentioned in Quran or Sunnah - so we are not completely sure.
Depends on who is looking at the information, their backgound and knowledge and their perspective.
* Facts comes from Quran and Sunnah.
Theories: 2 theories on how historians look at history.
Linear Theory - Western and European historians
(Technology: us)

(Adam: savage)

---
Spiral Theory - Muslim Historians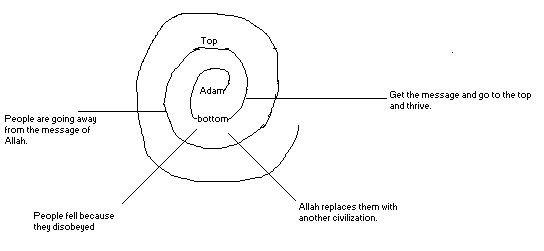 Home | Teacher | Language Arts | Social Studies | Classroom | Recommended Books